Rustrel, the 23th november 2006
The parcel from England :
Bonjour! je m'appelle Ben, j'ai 9 ans.Comment ça va?Ca va bien! What is your favourite football team?What is your favourite food?What is your favourite animal?Au revoir Ben.
Hello, I am sending this because you might like to learn more about Stouffort.
From Fletcher. I hope you like them.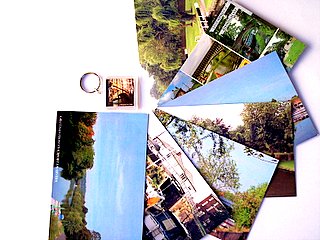 The canals are english.The man who invented canals was born in Kidderminster a town next to Stourport where we live.We are sending you pictures of Stourports canals.
From Megan & Jack.
These are porkscratching.Lots of british adults like to eat these when they are drinking in the pubs you can also buy them in shops.By Georgina.Bonjour.Do you have cup a soup in the south of France? I do not drink it but my mom and brother do.The soup sachets are always in the cupboard at home.Do you have them in your cupboard at home? From Dan.
This is a bottle of Worcestershire sauce, we put it on our food.Do you have this?Our teacher miss Evans likes right next to the factory.From Charlotte age 9.
This is a diary milk chocolate bar.This chocolate is very famous in Great Britain.

We get a lot of chocolate.By Callum.
This is one of our local newspapersI thought you would like thisbecause it is kidderminsters newspaper. Ben.
Hello I give it to you because this is the London eye, it is very famous in England and I hope you will enjoy the leaflets.From Bethan.
I did not know if They come from oak trees the big tree makes millions a year.you have acorns in France.They start off with tiny hats.
This piece of carpet
was made in Worstershire.From Charlotte, age 9.
This is where we have our lessons it is separate from the main building. From Sarah.
Rustrel, le 9 novembre 2006


Chère Mercedes,
Aujourd'hui, je vous ai envoyé le DVD que nous avons fait pour nous présenter. Il y en a une partie en français et une partie en anglais. Tout a été très rapidement fait, et nous avons besoin de progresser. Vous verrez.
Je vais demander aux élèves de vous répondre et je devrais envoyer leurs messages la semaine prochaine.
Est-ce que les élèves peuvent voir les éventuelles photos que nous leur enverrons ? Ont-ils accès facilement a un écran d'ordinateur ?
Bien le bonjour chez vous !
Jacques
Questions about the parcel :

I just wanted to know why you sent us a teddy bear? It is very sweet! Goodbye and thank you for the candies. Mina.

Why did you send us a bear ? Estelle.
I would like to know why you sent us a teddy bear? By the way, not bad your sweets! And thank you! Damien.

Why did you send us the teddy bear? Is it a mascot for you? Thank you for replying quickly and thank you for the parcel. Claire.
I would like to know what they were, the red and yellow sticks, the magazine Dandy,
the small red and yellow balls, the teddy bear, the books, the ruler, the pen, the poster … And I'm sorry about the cup, it was broken during the journey! Hugo.
Do you live in a big house or a small apartment? For me it's a postage stamp flat above the school, 80 m ². But we're going to move. Clément.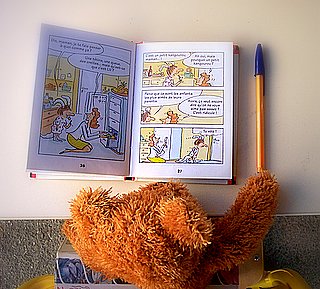 Hello ! My name is Margaux. Thank you for the teddy bear.
How many colours are there in the candy sticks? Thomas C.
How's everything in England? For us, everything goes very well. It is a little cold, especially in the morning. We received your parcel and I want to ask one question: why did you send us a bear with a blue tie? Laure.
Why is the teddy bear's tie blue? Daphné.
My name is Émilie. I am nine and a half years old. I don't have any brothers or sisters. I have a dog which is called Yambo. I play handball. Soon, I shall take up music. After school, I like to cycle. Goodbye.
| | |
| --- | --- |
| | Here on Rustrel, on November 12, 2006, the temperature was 9 ° in the morning and 13 ° in the afternoon. Thank you for all that you sent to us, I would like to know if the teddy bear is your mascot? It is cold with you? Alexis. |